Remote working has limited us in many things, simultaneously it gave us the liberty of being in places without taking an aeroplane. Virtual visits became a much easier thing to organise. That allowed us to meet our peers in IRCAM's Artificial Creative Intelligence and Data Science (ACIDS) team in Paris back in February.  This time we are delighted to "travel" to Canada and meet with Centre for Interdisciplinary Research in Music Media and Technology (CIRMMT).
We will share our ideas and research and what our groups are working on at the moment. Each centre will have 6-7 presentations from PhD students, totalling 12-14 presentations, with a length of 3-5 minutes per presentation.
These presentations will revolve around topics such as deep learning, sound synthesis, gesture and performance analysis, artificial creativity, augmented instruments, generative music, optical music recognition, composition… and much more! See the agenda!
Date: 30th of June 2021
Time: 2-5 pm (UK time, GMT+1)
Where: https://mcgill.zoom.us/j/83537509055
Organisers:
AIM
Elona Shatri: e.shatri@qmul.ac.uk
Nick Bryan-Kinns: n.bryan-kinns@qmul.ac.uk
CIRMMT
Eduardo Meneses
Carolina Rodríguez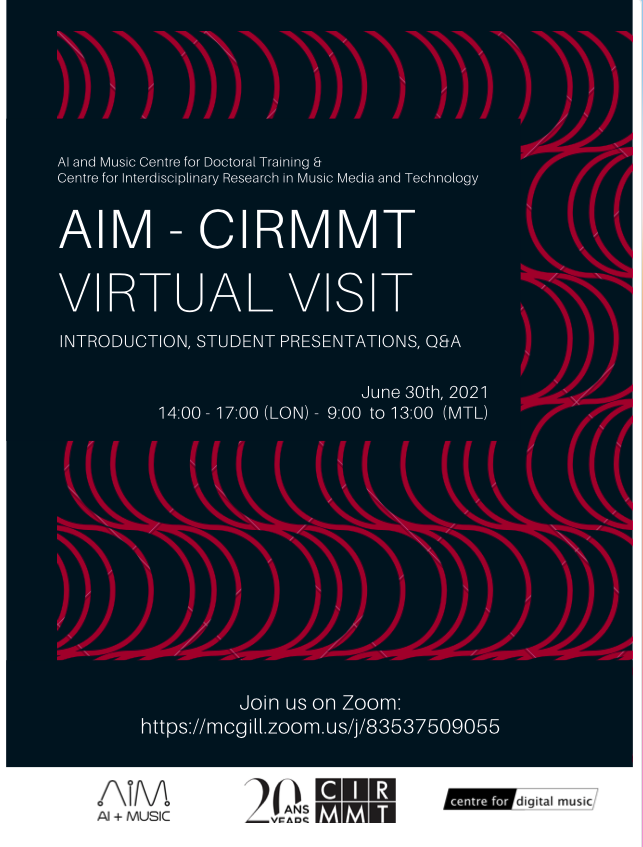 ---