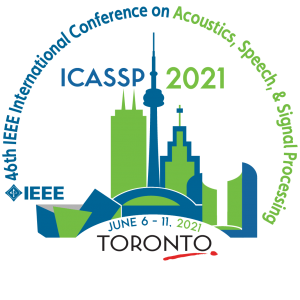 AIM students will be attending and presenting their work this year at the 2021 IEEE International Conference on Acoustics, Speech and Signal Processing (ICASSP 2021) from 6-11th of June. ICASSP is the world's largest and most comprehensive technical conference focused on signal processing and its applications. ICASSP will be fully online for the second year. It will feature keynote talks from Karl Friston, Manuela Veloso, Bernhard Schölkopf, Ali H. Sayed and Mei Ling Helen Meng.
The below papers will be presented by our AIM students:
Joint multi-pitch detection and score transcription for polyphonic piano music, by Lele Liu, Veronica Morfi, Emmanouil Benetos
Prototypical networks for domain adaptation in acoustic scene classification, by Shubhr Singh, Helen L. Bear, Emmanouil Benetos
Automatic Multitrack Mixing With A Differentiable Mixing Console Of Neural Audio Effects, by Christian J. Steinmetz, Jordi Pons, Santiago Pascual, Joan Serrà
Other members at the Centre for Digital Music (C4DM) will be presenting their work at ICASSP, read here for more details.
See you at ICASSP!
---