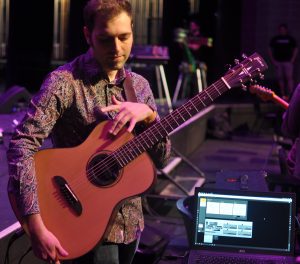 AIM student Andrea Martelloni won third prize at the 25th Guthman Musical Instrument Competition held at Georgia Tech, Atlanta on 11th March 2023!
Andrea presented the HITar, an augmented guitar supporting percussive playing with the help of a DNN gesture classifier and physical modelling synthesis provided by PRISM Labs's MetaSynth. The project was supervised by Dr Mathieu Barthet and Prof Andrew McPherson. The HiTAR is an augmented instrument that uses an acoustic guitar as its base and has embedded sensors to capture a performer's gestures and hits. The body of the guitar and the captured gestures of the player are connected using machine learning, and the sound from striking the body is transformed to resemble sounds on different surfaces like metal or glass. This allows the performer to organically explore additional gestures and sounds to accompany the traditional guitar performance.
Also present at the competition finals was C4DM's Lia Mice with her Chaos Bells, a large instrument she designed with Andrew McPherson during her Media and Arts Technology PhD.
The Guthman Musical Instrument Competition was initially designed to identify the next generation of musical instrumentalists, It has turned into one of the only competitions and events dedicated to identifying next-generation musical instruments and the best new ideas in musicality, design, and engineering. It is hosted by the School of Music at Georgia Tech, Atlanta-USA. This year's Guthman Musical Instrument Competition featured nine finalists from six countries and the result is an event that exposes new technologies and novel ideas to a community of musicians who are natural experimenters.
You can see the video presentation of the HITar here, and you can watch the public performance of all the contestants on Georgia Tech's YouTube channel.
---