The International Conference on Digital Audio Effects (DAFx) 2022 took place in Vienna, 6th-10th September 2022.
AIM PhD student Cyrus Vahidi published and presented Differentiable Time-Frequency Scattering on GPU, which received a best paper award.
This work was conducted during a visit to AIM academic partner, l'Equipe SIMS, LS2N (CNRS, France), in collaboration with Kymatio.
Kymatio is an open-source Python package for wavelet scattering and deep learning. Kymatio 2022, a two-day international workshop, took place in Nantes in May 2022. Kymatio 2023 will be announced in the coming months.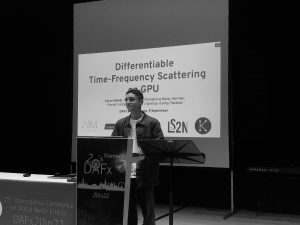 ---